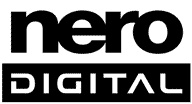 Nero, formely known as Ahead Software, has been busy, in order to have something new to show at CES 2005 expo. Both of these announcements involve the Nero Digital MPEG-4 codec, which they seem to be putting a lot of effort to. Content copyright protection has been developed together with major players Philips and Hewlett-Packard. Nero Digital is also going mobile, which is no surprise as many modern phones are already MP4 and/or RealVideo enabled.
Nero, leaders in digital media technology, has announced that VCPS from Royal Philips Electronics and HP will become fully integrated in Nero Digital's offering to allow for the protection of content.
Jointly developed by Philips and HP, VCPS is an innovative technology for encrypting video recordings on DVD+R/+RW discs. Designed to make protected recordings on DVD+R/+RW discs of digital broadcast according to the Broadcast Flag rules adopted by the United States Federal Communications Commission (FCC), VCPS also enables direct digital recording of 'copy-once' content from satellite and cable sources....
Nero has announced plans to release Nero ShowTime Mobile, a universal multimedia player for mobile devices including phones, PDA's and Linux based systems.

Nero ShowTime Mobile will bring the full Nero Digital™ media experience to a wide range of existing and upcoming personal devices. With a unique multiplatform design, Nero ShowTime Mobile will provide a single, intuitive look on all platforms regardless of the Operating System. Users will no longer need to search for and adapt to a new player or re-encode their multimedia collections every time they upgrade their cellular phone or PDA.

In addition to the playback of high quality Nero Digital™ content, Nero ShowTime Mobile will also be capable of playing legacy MP3 files and even DVD discs if DVD capabilities are present on a target device. Nero ShowTime Mobile will also support the Universal Plug and Play (UPnP™) standard, making seamless streaming connection with home multimedia centers, such as Nero MediaHome, and other entertainment devices easier than ever before.
Source: Nero press release. More information about Nero Digital at
nerodigital.com