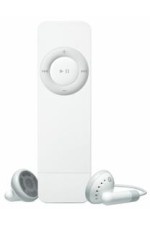 Apple
is pushing for 80% of
Japan
's portable digital music player market with the launch of its new
iPod shuffle
. Apple Vice President
Yoshiaki Sakito
said the company has received more prerelease orders for the new iPod shuffle in Japan than those placed for the iPod mini player, which became a blockbuster last year. Apple currently has about 50% of the digital music player market in Japan. Apple will realize the goal with the flash memory-based iPod shuffle digital music player to be launched in Japan tomorrow, Sakito said. Apple's latest player, the iPod shuffle stores less music than the existing iPods which use HDD's, but it's also smaller and costs less.
In Japan, it is expected to retail at around
10,000 yen (US$98)
, about half the price of similar products sold by other manufacturers. Apple also owns the hugely successful iTunes music store and expects to launch a store in Japan early in 2005. It would not take 12 months before the Apple group starts the service in Japan, Sakito said.
Source:
Ecommerce Times