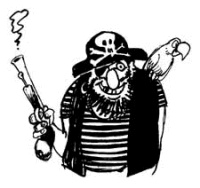 A French teacher has been fined
€10,200
for sharing music online. This is France's first big case aimed at deterring people from using
P2P networks
to share music. €10,200 is not so bad when you take into account that the companies involved demanded
€28,400
. So he got off with less than half of the original demand but also was ordered to take out advertisements in two newspapers to publicise the verdict. He is alleged to have transferred 30GB of music files which the recording industry claims accounts for about
10,000 songs
, or
614 albums
. Needless to say all those files are now gone as his computer was confiscated.
The judgement came the eve of an appeal by 70 musicians, academics and politicians calling for an end to legal action against individuals who download for their own use.
"Like at least eight million other French people, we have also downloaded music online and are thus part of a growing number of 'criminals'. We ask that these absurd lawsuits stop,"
the petition, to be published in the
Nouvel Observateur
newsmagazine Thursday, said. They would prefer that the music industry finds a way to adapt to this new technology instead.
Source:
Servihoo