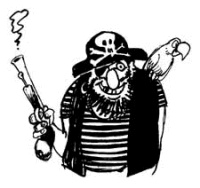 Laura Tunberg
, a movie-studio attorney was browsing through
eBay
back in 2001 when a particular item caught her eye above all the rest. It was a
James Bond DVD box set
but the only problem was that her employer,
Metro-Goldwyn-Mayer Inc.
was not selling any James Bond box sets.
Randall Hobson Guthrie III
was selling a box set however, from his home in
Shanghai
. Tunberg ordered the box set from the seller to see if it was actually real.
When it came, she was shocked. The box set had a proper MGM logo on it as well as an official looking hologram.
"All our stolen artwork was on the front,"
recalled a surprised Tunberg. When the assistant e-mailed Guthrie asking how many James Bond collections he could provide, the reply came quickly.
"I can sell you as many as you want,"
Guthrie wrote.
This simple little eBay transaction resulted in a three year investigation that included
Motion Picture Association of America (MPAA)
, a special unit of U.S. Customs and Chinese police. It was the very first time that U.S. agents worked together with Chinese agents to close down a counterfeiting network. A raid on Guthrie's apartment turned up 210,000 pirated DVD movies made by Chinese DVD replicators, including some copies that were illegally recorded in a movie theatre. (See
CAM
and
Telesync
).
Guthrie and three employees were tried in January and a verdict is expected within the next few weeks. China is in fact the world's largest counterfeiter, which has brought international pressure to its doorstep. Though Chinese DVD pirates rarely spend time in jail, Guthrie, the son of a wealthy Manhattan family, if convicted, faces up to 15 years for selling his counterfeit Hollywood movies overseas, mostly to Americans. It seems likely he will get some rough treatment in an effort to score political points with the U.S.
"Chinese officials would love to be able to say their country is not responsible - it is a United States citizen,"
says a person who was involved in investigating Guthrie's case.
"They only protect copyright when it's in their own interest."
China is currently battling mass piracy in the country but has admitted it is unsure whether or not it can win this battle.
Source:
azcentral