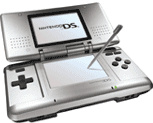 The new
Nintendo DS
handheld console has set a new record for opening sales of consoles in the UK. In just two days the company sold 87,000 DS consoles in the UK after its launch on Friday. In May 2002, Nintendo also had similar success with its
Gamecube
console that managed to sell an impressive 69,000 devices in its debut weekend. Below that comes the
Xbox
which sold 52,000 in its first week, which is still better than 46,000
PS2
consoles sold in its opening sales.
You have to take into account however that the Xbox and PS2 consoles were considerably more expensive than the Nintendo DS console which is selling for just £99. Nintendo are probably also delighted to hear about
Sony's announcement
that the
European launch of the Playstation Portable (PSP)
has been delayed by a number of months. It is rumoured that the console will hit Europe by the end of June.
Nintendo seemed to have an aggressive ad campaign for its DS hand-held console, which it claims is aimed more at women than men who would be more likely to go for the look of the Sony PSP. The PSP has some advantages over the DS also, including deals with Movies studios to offer movies for the console in
UMD format
.
Source:
The Register