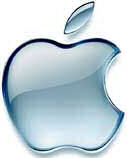 Apple
currently has a tight grip on the
MP3
player market in the world and on sales of music downloads. The company has sold over 20 million
iPods
and 500 million track downloads to date. However, increasing competition might loosen Apple's grip. Analysts now give Apple's hold another 12-18 months before it slips. Apple's success in the digital music world so far has been incredible as the company seems to be able to turn to gold anything it touches.
Apple immediately dominated the category of flash-based MP3 players with the introduction of the
iPod Shuffle
. The company has also brought podcasting from the underground into the mainstream by adding support for podcasts to
iTunes
. The company currently has 80% of the MP3 player market and 75% of online music download sales but competition is started to grow at an alarming rate so how long can Apple keep this?
"It's inevitable that over time their market share declines,"
Piper Jaffray
senior research analyst
Gene Munster
says.
"It's safe to say that nobody can sustain an 80 percent market share in a consumer electronics business for more than two or three years. It's pretty much impossible."
While Apple struggles to hold onto the dominance, the company is most likely saddened to see falling support from record labels. Many believe however that Apple is bringing the lack of support on itself due to the company's policies.
Firstly, Apple is not open at all to suggestions of more flexible pricing and promotion of music. Many labels have indicated that the digital music market would benefit if tracks had individual prices based on their popularity and other factors. Also the labels are upset with the fact that music from non-Apple music stores doesn't work with iPods. Even
WMA
tracks provided with copy protected CDs don't work with iPods and many believe Apple's tight grip on it's
FairPlay
DRM
technology is unfair to consumers who purchase CDs and want to store the music on their iPods.
However, one can understand that Apple would much prefer consumers purchase music from iTunes than get it from a copy protection music CD.
"It's a monologue with them,"
one anonymous label executive said.
"They pretty much say, 'This is what we want to do,' and if you disagree with them you're an idiot. It's like dealing with a cult."
So how will another company help these angry label executives by forcing Apple's dominance down from the top?
Firstly a company would have to make a product that has the same effect on customers as the iPod did. Apple's iPod has both a classy look and simplicity.
Creative Labs
is the leading competitor to date. It's products are critically acclaimed, mainly the
Zen Vision
which has support for digital video files. Creative currently has about 9% of the market. However, a much bigger company with a strong global brand identity is required to dethrone Apple.
Two major contenders are
Samsung
and
Sony
. Samsung already stated that it wants 10% of the market this year, and aims to be the global leader by 2007. It sounds like an impossible task, but Samsung has a reputation of going head to head with market leaders, and winning. Sony may seem like more of a possibility as it also has it's Sony
Connect
music store. Sony also only had 1 MP3 device on the market last year, but now has more than 10 and is the biggest seller of MP3 players in Japan.
Source:
Reuters