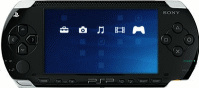 North American
PSP
users can now update their PSP's
Firmware
to
v2.0
using the wireless Network Update feature on the device. The 16MB update is almost identical to the Japanese version of the firmware which was released in July. The update adds support to the PSP for the PCM (WAV) audio and
AAC
audio formats.
4:3
Screen Mode has been added for video saved on Memory Stick. Data security has also been improved and the company said it also is built to enhance digital photo sharing (TIFF, GIF, PNG and BMP have been added as viewable file formats).
Sony
would like for PSPs to look more like good portable entertainment devices.
"The Internet browser and other added functionality ... will further enhance the user experience beyond the unprecedented portable entertainment already provided by PSP,"
said
Andrew House
, executive vice president of Sony Computer Entertainment America. Sony has sold almost 2 million PSPs in North America since March.
While the update looks very appealing to PSP users, many are holding off due to the
"increased security measures"
. These fixes will make running homebrew on your PSP impossible so you won't be able to use emulators, launchers etc... if you update to this firmware version.
You can download the update from:
http://www.us.playstation.com/psp.aspx?id=SoftwareUpdate
Source:
Reuters