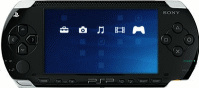 Sony
has launched a new service for its Japanese
PlayStation Portable (PSP)
customers that will allow them to rent video content. It was always a plan of Sony's to expand upon the entertainment features that the Sony
PSP
already offers to its owners. This rental service uses the PSPs WiFi abilities to give consumers access to an archive of video content that can be downloaded and stored on the console's
Memory Stick Duo
.
The video content will include TV shows, music videos and movie trailers. The price for the content ranges from $1 to $3 each. The content can be viewed for just a set amount of time (usually a week or two) but then it will be unusable after that. Popular anime shows like
Mobile Suit Gundam
,
Noein
and
Private Princess: Ayase Haruka
are included in the initial line-up.
It is unknown whether or not this service will become available ever for PSP users outside of Japan. Sony usually launches products and services first in Japan so it is likely. However, with the market for TV show downloads (that are intended to be stored on a portable video player) just starting and already including
Apple
, Sony will be in for tough competition if the rental service reaches beyond Japan.
Source:
GameShout