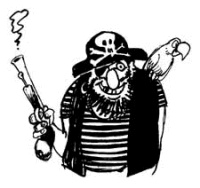 According to a study commissioned by the
Business Software Alliance (BSA)
a 10% reduction of software piracy would result in 34,000 new jobs, £11bn of economic growth and a £2.8bn increase in tax revenues in the UK alone. The study, which was carried out by
International Data Corporation (IDC)
shows that the UK has a relatively low piracy rate of about 27%. A growth of 30% is expected in the UK IT sector through 2009, but a 10% piracy reduction apparently would increase that to a 37% growth.
There are 64,296 business in the IT sector, employing 534,718, contributing £25.9bn in tax revenues and the whole UK IT sector is valued at £39.8bn. However the IDC claims the 10% reduction in software piracy would boost this value to £54.5bn, create 33,874 high paying IT jobs and an addition £2.8bn in tax revenues.
"The software industry has a key role in the UK economy and acts as a catalyst for productivity and growth,"
said
Janet Anderson
MP, Chair of the All Party Parliamentary Group on Intellectual Property Protection.
"Piracy stifles innovation and creativity and clearly has a significant impact on employment, economic growth and public spending."
The global piracy rate is about 35%. A 10% reduction in that rate would spur the global IT industry to grow 45% larger by 2009, creating another 2.4 million jobs, economies could grow by $400bn and $67bn in tax revenues could be created. The study recommends nations update copyright laws so they implement
World Intellectual Property Organisation (WIPO)
obligations, create strong enforcement mechanisms, dedicate government resources to piracy, improve education and awareness and only use legitimate software in the public sector.
Source:
The Register