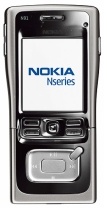 Finnish mobile phone giant
Nokia
said today that 6 of it's newest phones missed their target Q1 release due to software issues. One of these phones is Nokia's premium music phone, the
N91
. Nokia Multimedia division spokesman
Kari Tuutti
said that the N91 model, which includes a 4GB HDD, will start shipping this week. He also said that the
N71
and
N80
phones would start deliveries in the next two weeks or so. The N91 was intended for release before Christmas last year, but the company had to delay due to software problems.
Nokia had said that a primary reason for the delay of the N91's release was ensuring a solid implementation of
Microsoft
's
Windows Media
DRM
software. The company wants the phone to be compatible with as many music providers as possible. The phone supports the
MP3
, M4A,
AAC
and
WMA
formats.
"Because the devices are pocketable computers, we need to make sure of the software,"
Tuutti said.
Along with the three N-Series phones set to be released soon, three E-Series phones, the
E60
,
E61
and
E71
models are also expected to start shipments in a few weeks. These models are aimed at business users and are part of the company's plan to win more of the corporate market, which is dominated by
RIM
's
BlackBerry
.
"The basic issue is really about the interoperability of various enterprise applications ... (like) email device management and so on,"
Pekka Isosomppi
, spokesman for Nokia's Enterprise division, told
Reuters
.
"They all need to be cross-tested against one another."
Source:
Reuters