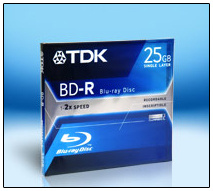 The
TDK Corporation
has announced that it is ready to ship single layer
Blu-ray
recordable media to retailers. They provide a 25GB storage capacity in both write-once (BD-R) and rewritable (BD-RW) media. The company claims they will be the first publicly available Blu-ray recordable discs. The blank media will be available for the launch of Blu-ray devices which is expected to begin in June. Dual-layer 50GB recordable media will not be available then however.
TDK expects its 50GB recordable media to be available later this year, priced at $47.99 for write-once and $59.99 for rewritable. The 25GB discs will cost $19.99 for write-once and $24.99 for rewritable. The Blu-ray camp believes the 25GB storage capacity is sufficient for recording a single video at
1080p
. There will also be recordable
HD-DVD
media available very soon.
The HD DVD camp will roll out dual layer 30GB recordable media before dual layer recordable BD media arrives. The first generation of Blu-ray recorders will not support dual layer discs. It will take a number of years before recordable media for both formats will become widely used, when it becomes more affordable and when components for both evolve further.
Source:
Toms Hardware Guide