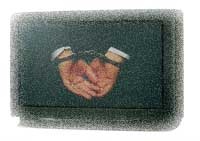 U.S. Senator
Ted Stevens
(R-Alaska) has snuck the dreaded and condemned
"broadcast flag"
into a bill on Net Neutrality. It is worth mentioning that the same guy previously rejected Broadcast Flags for radio. The broadcast flag clause would allow
"the FCC to establish a broadcast flag to allow TV stations to protect digital content from Internet piracy."
Previous attempts to bring about the Broadcast Flag have been highly criticised, and for good reason.
In effect, it would allow broadcasters to veto any features of digital televisions and downstream devices. So the
FCC
acting on behalf of these broadcasters could dictate the design of video recorders, optical drives, network interfaces, hard disks, computers and operating systems all in the name of preventing piracy. This would ultimately give Hollywood studios control over technology and ensure that technological innovation does not affect their business model.
One alarming element of the broadcast flag proposal is how it prohibits the use of free and open source software in digital TV applications (including PC operating systems, video drivers, etc). This is because tech companies would be required to build devices to be robust, to resist the attempts of their owners to modify them.
Sources:
Boing Boing
Electronic Frontier Foundation (Picture Source)