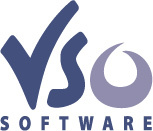 We finished our
BlindWrite 6
promotion with
VSO Software
two days ago, but now we continue to work together to offer our users discounts on all products sold by VSO Software including
ConvertXtoDVD
,
PhotoDVD
,
CopyToDVD
and
BlindWrite
(see below for product details). The discount offer also applies to
VSO's Gold Membership
package.
The discount offer is for
20%
off the retail price of the item(s) you purchase from VSO. You can get the discount by entering the coupon code
"afterdawn"
(without quotes) while purchasing the software on the VSO website. The offer is valid until
August 31st, 2006
so there is plenty of time to evaluate free trial versions of the software if you are interested.
Here are details on the products VSO offers...
---
VSO ConvertXtoDVD
---
VSO ConvertXtoDVD
(formerly known as DivXtoDVD) is an easy-to-use tool that allows converting multiple video file formats (including
DivX
,
WMV
and
XviD
formats) to a
DVD-Video
-compliant format.
Program also supports converting audio files into 2-channel
AC3
format, supports
NTSC
and
PAL
formats and also
16:9
and
4:3
aspect ratios. Program's encoding engine is pretty fast and produces good-quality results, considering that the source material is typically already heavily compressed with lossy encoding methods.
Tool also can automatically create
chapters
for DVDs and also supports putting multiple movies on one
DVDR
disc. The program also supports the creation of optional
DVD
subtitles. It can create fully functional DVD Menus automatically. As a summary, an excellent tool for quick DVD creation and I can see it become quite popular for converting digital camcorder material into DVDR format as well.
Download:
http://www.afterdawn.com/software/video_software/video_encoders/vso_divxtodvd.cfm
Purchase from:
http://www.vso-software.fr
---
VSO PhotoDVD
---
VSO PhotoDVD
is one of the best DVD Photo Slideshow Software packages to create DVD's from your photos. Watch your pictures on any home DVD player. Share your digital pictures on a DVD with friends or family. VSO PhotoDVD animates your images to make a video DVD Slide show. You can add optional soundtracks and comments to your pictures using DVD subtitles. The result is attractive and vibrant. The product is very easy to use and burn with any DVD writer.
A wizard style interface lets you define the folders or files where to select the pictures. You can define multiple lists of music files to play in the background, and add up to 3 channels of DVD subtiles. The transitions and animations of your pictures are completely automatic and will enhance the experience of sharing your best memories. Use focus points to highlight the details of your pictures. You can watch the results on a regular TV or computer using a DVD Player. This format uses the best quality available at the moment. A copy of your source files is stored in the DVD project and lets you keep trace of your digital pictures without quality loss using a computer.
Download:
http://www.afterdawn.com/software/video_software/video_tools/vso_photodvd.cfm
Purchase from:
http://www.vso-software.fr
---
VSO CopyToDVD
---
CopyToDVD
is a new generation DVD backup software tool to copy your music, games, movies, video, photos and data files. CopyToDVD provides you with a variety of ways to create CD(s) or DVD(s), such as integration to shell, user friendly frontend or FileDepot technology. With just a few clicks you can backup DVD movies, burn files, folders, pictures or photos, and music (MP3
Ogg Vorbis
WMA
Flac) to CD DVD. CopyToDVD uses a smart data analyser which suggests the best output format (audio CD, DVD Video...).
CopyToDVD is very user friendly. No more time wasted on fussy, complicated interfaces. CopyToDVD supports all CD and DVD formats (CD-R/RW, DVD-R/RW, DVD+R/RW,
DVD-RAM
, DVD+R DL,
DVD-R
DL). Registered users can contact the support team for assistance on problems or advices.
For developers, CopyToDVD DVD backup software can be integrated in any application. CopyToDVD is the unique way to add burning and save-to-media features.
Download:
http://www.afterdawn.com/software/cdr_software/cdr_applications/copytodvd.cfm
Purchase from:
http://www.vso-software.fr
---
BlindWrite 6
---
Blindwrite
, your ultimate game copy software back up tool! BlindWrite extracts all the characteristics of your media to your harddrive to reproduce a working copy of your media. It allows you to protect your investments against damage caused by children, scratches or by frequent use. Your personal CD or DVD backups can even be run directly from your computer using a virtual drive (i.e. Daemon Tools). Blind write's Game Copy Software supports a large number of formats and is regularly updated to support the latest technology. Combined with CopyToDVD, it is a complete set of software for all your backup needs: data files, 1:1 CD/DVD backups, audio CDs from music files and DVD movies. A must-have!
Blind Write supports all popular CD/DVD writers and handles every available DVD format (DVD-R, DVD+R,
DVD-RW
, DVD+RW, DVD-RAM, DVD+R Double Layer, DVD-R Dual Layer).
Download:
http://www.afterdawn.com/software/cdr_software/cdr_applications/blindwrite_suite.cfm
Purchase from:
http://www.vso-software.fr
---
We hope that this promotion will be useful to some of you. Enjoy.