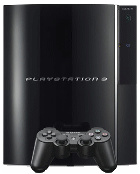 It appears that while
Sony
's upcoming next generation console, the
PlayStation 3
, is being advertised as being backward-compatible with the previous two PlayStation consoles, users will be required to use an adapter to access save files on the old memory cards. The adapter is used to copy the save file information to the PS3's internal Hard Disk Drive.
"To use saved data on a PlayStation 2 memory card, you must copy the data onto a virtual memory card within the hard disk. This requires a PS2/PSone memory card adapter to copy the data to your PlayStation 3,"
Sony's dedicated PlayStation 3 website states.
"A memory card adapter is designed to edit, up/download games saves to and from EMS flash card or smart media card."
While this might not put many people off buying a PlayStation 3, most people would like to know whether or not this will be bundled with the console but this is all Pocket-Lint.co.uk could get from a spokesperson:
"We are in the process of designing and creating an adapter, but have not confirmed whether this will be bundled with the machine, or available separately"
.
I guess if you are advertising the console as being backward compatible with the PS1 and PS2, it really should be included with both PS3 bundles. The PlayStation 3 console is scheduled to be released on November 11th in Japan, and November 17th worldwide.
Source:
Pocket-Lint.co.uk