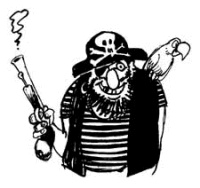 UK film minister, Shaun Woodward was recently quoted in saying that he believes the best way to fight Internet film piracy is to make movies available in an on-demand format as soon as the movies are released.
In an interesting interview with Mr. Woodward, he brought up some points that most pirated software is used in such a way that the "consumer" wants to watch the media at home. He believes that if the film industry sets up a standard where new releases could be available for a premium download as soon as they are released in the cinema, this may help alleviate some of the £300m profit that goes towards DVD pirates.
It is not a new fact that movies are most often ready for illegal download on the Internet days, and in most cases hours after their cinema release. Having these movies available in the same time frame under a legal model just may be the way to reach a comfortable medium between the movie industry and Internet pirates.
Mr. Woodward told film executives in a conference Thursday, "
You're going to have to look at release dates in a slightly different way than you have done before. You're going to have to look at slightly more ingenious ways of making electronic copies available so that people may actually pay a different price for something that they can download at home, which is just being released in the cinema. If they want to watch it at home, then maybe you should make it available to them. But they should pay a premium rate for having it earlier on and it should be encrypted in such a way that it can't be copied.
"
Source
BBC News