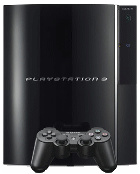 Ray Maguire
, managing director of SCE UK, told
GamesIndustry.biz
that the company has received welcome and positive feedback from retailers over the planned March 23rd launch of the
PlayStation 3 (PS3)
console.
"We have had an incredibly positive response from our partners in UK retail,"
Maguire said.
"There has been some great feedback on pre-order take up and the palpable anticipation from consumers."
European gamers were forced to wait for their chance to buy a PS3 console an additional 4 months after the original planned launch, and Sony wants to make it up by shipping 1 million units for launch day. There will also be 30 software titles available for the console when it launches. The 60GB version of the PS3 will cost €599 (£425 in UK), the 20GB version will not be available initially.
"With the strongest and biggest launch line up of any console in the history of our business and a unprecedented stock allocation for the launch period, we look forward to sitting down with our trade partners in order to finalize our plans for a very solid UK launch,"
Maguire said.
Source:
GamesIndustry.biz