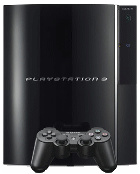 Sony Computer Entertainment Europe (SCEE)
head of corporate communications,
Nick Sharples
, said that the company is still on track to reach its target of 6 million PS3 units shipped by the end of March. He re-confirmed Sony's target in an interview with
Bloomberg
at
CeBIT
in Hannover, Germany. He also said that Sony will reveal shipment estimates for financial year ending March 2008 on May 13th.
Some have cast doubt on Sony's target, which was initially set about a year ago when the PS3 was still on target for a global launch in November. However, some
Blu-ray
component production problems and other issues, saw the console being delayed in
PAL
territories. The European launch of the PS3 is on March 23rd.
To make up for the delay in Europe, Sony has promised that one million units will be available on launch date, more than the number of
Xbox 360
's and Wii's available on day one, put together. Sharples also revealed that a beta test of the
PlayStation Home
feature will begin next month.
Source:
GamesIndustry.biz