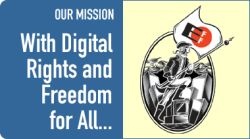 The
Electronic Frontier Foundation (EFF)
has gained entrance into the "secret' meetings of the
Digital Video Broadcasting Porject (DVB)
, a group of technology and television companies that create the TV and video specifications that are used in Europe, Australia, Asia and Africa and has uncovered some startling facts.
In thier newest report, EFF reports that US movie and television companies have convinced the DVB to create new specifications that would force
DRM technology
into televisions. This would be to take away consumer's rights and most likely force them to pay over and over again to view legally acquired degital television content.
Ren Bucholz, EFF's policy coordinator in the Americas had this to say
"DVB is abetting a massive power grab by the content industry, and many of the world's largest technology companies are simply watching. This regime was concocted without input from consumer rights organizations or public interest groups, and it shows."
Despite recent record profits, American movie and television studios insist that new technologies could ruin their industry. Notably in the past they have tried to block VCRs and recordable VCR and DVD devices in the US. Now, using the DVB, their plan has gone international.
"DVB members' active indifference, even hostility, to user rights is shameful,"
said EFF Staff Technologist Seth Schoen.
"When American studios ask for regulatory support for restrictions pushed through the DVB Project, public officials must stand up for consumer rights, sustain competition and innovation, and tell Hollywood to back off."
Source:
EFF