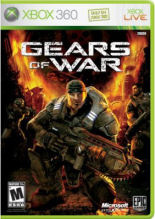 The mega-popular
Xbox 360
video game
Gears of War
will follow
Halo
in a transition to film. The film rights to Gears of War have been acquired by
New Line Cinema
. The title sold more than 3 million copies in 10 weeks after its launch and replaced
Halo 2
as the most popular title on the
Xbox Live
service. It received several awards including
"Game of the year"
from
Gamespot
and the
Interactive Achievement Awards
'
"Overall Game of the Year"
.
Gears of War tells the story about a war between humans and the
Locust Horde
on the planet of
Sera
. Players are part of Delta squad as they execute a plan to end the war for good. Lead game designer,
Cliff Bleszinski
, has been working for screenwriter
Stuart Beattie
, aiming to create a movie that will appeal to both the fans of the game and regular moviegoers.
The team hopes to create a motion picture that will improve greatly upon several past attempts to bring popular video games to cinema screens.
"We're not going to do a to a lowest-common-denominator movie,"
said producer
Matty Bowen
, who is working on the project with
Wyck Godfrey
.
"We're going to attempt to elevate it. And we're starting off by having an A-list writer doing it."
Source:
Reuters