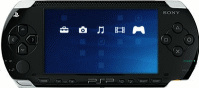 Sony
released the latest version of the
PlayStation Portable (PSP)
console,
v3.30
. The latest
firmware
makes a few tweaks to the system including support for video playback at 720x480
resolution
, versus the prior scaled-down 320x240 resolution. It also has added expanded support for
PlayStation Network
games, and offers
PSP
users free access to
T-Mobile HotSpots
for a limited time.
Fir six months, PSP users will be able to use T-Mobile hotspots, most commonly found in
Borders
and
Starbucks
, for free. The services usually charge a onetime $9.99 fee for 24 hours of use and T-Mobile offers a variety of monthly subscription packages at flat rates. To sign up for the promotion PSP users must log into a T-Mobile HotSpot by March 28, 2008.
Source:
GameSpot