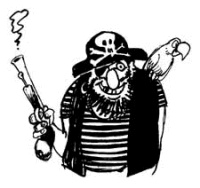 According to a survey by SurveyU, a group of researchers that conduct surveys of college students, although there are risks of getting in legal trouble with the
RIAA
, 67 percent of students on college campuses do not care and are overlooking the reprecussions of illegally downloading music.
Conducted during the weekened of March 24th, the survey asked 500 students how many songs they owned, how they acquired these songs, whether they side with the RIAA, musicians, the government, or other college students and how informed they were on the legal precedence of digital rights and illegal downloading.
The results were not all that surprising. 53 percent of the students were aware of the legal issues but only 35 percent of that group was familiar with their own legal rights.
The survey also found that only 57 percent of the student's total libraries had been purchased.

"Clearly there's a sense among college students that once a song has been digitized, it's free,"
said Dan Coates, Co-Founder of SurveyU.
"This is a generation that has grown up around digital media and is living on the fault lines of a digital rights issue."
When asked if they felt illegal downloading was affecting musicians only 40 percent agreed while the other 60 percent gave a statement almost identical to this one:
"Musicians don't suffer since their growing fan base buys concert tickets and makes other financial contributions to their success."
Jeff Rabhan, a manger for artists such as Jermaine Dupri and Kelis has stated, in the Wall Street Journal, that
"Sales are so down and so off that, as a manager, I look at a CD as part of the marketing of an artist, more than as an income stream. It's the vehicle that drives the tour, the merchandise, building the brand and that's it. There's no money."

"Concerts have been booming with double-digits growth, but the record companies aren't in on the profits made at concerts,"
Coates agreed.
Of the 500 students interviewed, 490 agreed that they had at least one song that was not purchased legally.

"If you ask me, 98 percent of people are doing it - it's not just a group of bad kids. It's like we have to punish an entire generation,"
explained Coates.
"It's small things, like the subtle change in words, from file-sharing to piracy. Those two phrases conjure up very different images. What I'm saying is that you'd have to do a lot of talking to convince me that these kids are profiting off these files."
Source:
DailyColegian