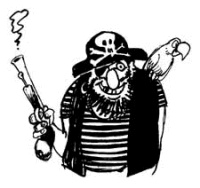 For the first time in the Czech Republic, a man has been sentenced to prison time for illegal music file sharing.
According to officials, the man caused damage of about one million crowns ($50,000 USD) and for his crimes he received a 7 month sentence.


"We have uprooted the myth that the Internet is an anonymous environment. This simply is not true. Everybody who gets on the Internet actually becomes...a specific, non-anonymous participant,"
Jaromir Soukup from the Czech branch of the
IFPI
said.
Petra Zikovska, the head of the Czech branch of the IFPI stated that the group has been fighting against unauthorized music file sharing for over a year.
Zikovska also stated that on April 11th, the police, in cooperation with the IFPI, raided the homes of 13 suspected file-sharers and seized 20 PCs and hundreds of CDs so it seems more sentencing may be coming in the near future.
Soukup said that those who "violate copyright face up to two years in prison and a fine twice as high as the damage caused."
He also mentioned that the sentencing should help the public learn that unauthorized P2P file sharing is illegal as he understands that many do not know that it is.
Source:
Ceskenoviny