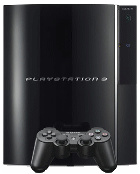 In hopes of increasing
PlayStation 3
sales for the 4th quarter 2007,
Sony
has announced they will launch an aggressive marketing campaign for the console that will mainly highlight the hardware's
Blu ray
capabilities.
Due to lagging console sales, Sony is focusing on marketing the PS3 as the "most comprehensive Blu-ray Disc player on the market."
The campaign will inlcude promoting the console's extensive studio support, superior picture and sound and even its web-enabled connectivity (although there have been no titles to feature online content yet).


"Our goal is to definitely widen our target base and not be so niche,"
Kim Nguyen, Sony PlayStation 3 Manager, said about the campaign, which will encompass internet, TV, print and radio.


"This is high-def entertainment messaging, where we have our exclusive software titles, and we are delivering a very powerful machine. On the movie side, you have beautiful movies that you can watch on the PS3. We are going for that larger audience,"
she added.
Sony did not give an exact date for the start of the campaign, but it is expected by July.
Source:
HD Digest