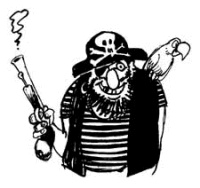 According to Japan's
Association of Copyright for Computer Software
, police forces arrested three males suspected of unauthorized sharing of Manga. The three suspects were arrested on May 18th and had their homes searched. Each is accused of scanning and uploading images of "Weekly Shonen Jump" and "Weekly Shonen Sunday" magazines on the Winny
P2P
network.
The three suspects are accused of uploading the scans during periods between February and April and that all the scans were for issues that had not hit bookstands yet.
Officers raided the homes of the suspects and seized computers, scanners, printers, and manga.
The Winny P2P software promised anonymity for its users but members of the
Kyoto High Tech Crime Task Force
found flaws in the integrated forum feature. The creator was arrested and convicted and forced to pay a $12,000 USD fine. Apparently the flaws have not been fixed, as these arrests mark the 3rd, 4th, and 5th in the past year.
Source:
ANN