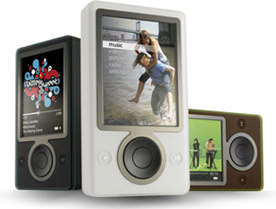 When
Microsoft
began selling the
Zune
it had a target of one million sold by June 2007. According to Microsoft Entertainment head Robbie Bach, the company has beat their expectations and sold "a little over a million" of the 30GB players as May comes to a close.
Bach also said that the company hopes to expand the online
Zune Marketplace
and that after a few software upgrades the Wi-Fi on the Zune might be used for more than just Zune-to-Zune file sharing.
Furthermore, Bach said it was "fun" competing with
Apple
because the company is a very "worthy and skilled" competitor. Apple still holds an almost 70 percent market share with its
iPod
player and recently sold its 100 millionth unit.
Source:
Electronista