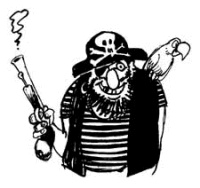 Hostel: Part II
director Eli Roth has blamed the lackluster box office sales of his latest movie on "rampant piracy".
"Piracy has become worse than ever now, and a stolen workprint (with unfinished music, no sound effects, and no VFX) leaked out on online before the release, and is really hurting us, especially internationally,"
he said.
He then insulted critics who reviewed a leaked "workprint" copy of the movie that surfaced weeks before the actual release date.
"Critics have actually been reviewing the film based off the pirated copy, which is inexcusable,"
he says.
"Some of these critics I have actually known for a few years, and while I wouldn't dignify them by mentioning them by name, I know who they are, as do the studios, and other filmmakers, and they will no longer have any access to any of my films."
As for his future, Roth proclaimed,
"I am not directing Cell any time soon, and I most likely will take the rest of the year to write my other projects. Which means I wouldn't shoot until the spring and you wouldn't see a film directed by me in the cinemas until at least next fall." He goes on to say that in Hollywood, "the R-rated horror film is in serious jeopardy. Studios feel the public doesn't want them anymore, and so they are only putting PG-13 films into production. The only way to counter this perception is to get out there and support R-rated horror."
Source:
Cinematic