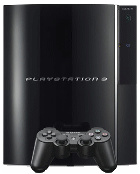 Izumi Kawanishi and Kanehide, two of
Sony's
technical officers, recently made comments that they believe there is room for a 30 to 40% improvement in the
PlayStation 3
as an
AV
unit. They believe the improvement can occur in future firmware updates.
The pair also concluded that the upgrades would not have an adverse effect on fan noise, and even implied that there was a possibility of a fan-less model in the future.


"So far, we are not worried too much since we have plenty of processing power left even at peak usage,"
AV development boss Kanehide said.
Platform development boss Kawanishi agreed:
"Nothing yet comes close to the load that Folding@Home applies. And I can see the possibility of a fan-less PS3 in the future, just like there was for the PS2."
Recent firmware updates have added upscaling support for PS1 and PS2 games as well as remote-play.
Finally, the pair added that future firmware updates would be mainly based on what consumers wanted,
"The scary thing about the PS3 is that we can continue to add updates as long as there is space on the HDD,"
concluded Kawanishi.
"We won't stop though, since adding new functionality is a lot of fun. We really enjoy getting feedback from the customers, and finding things we really hadn't thought of."
Source:
GI.biz