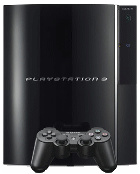 Today,
Sony
gave word that the
PlayStation 3
was finally in full production, now that blue-violet laser diode shortages were out of the way.
In April, the company announced that they had stepped up production of the diodes to 1.7 million units per month, as the diode is critical to the
Blu ray
drive. Shortages of the diodes are largely cited for the delayed European launch of the console.


"Production problems have now ceased, we're in full production as far as PlayStation 3 is concerned and there's a steady chain of supply in North America, Japan and Europe,"
a Sony Computer Entertainment Inc. spokesperson said.
The spokesperson also added that with the production issues a thing of the past, the company is confident the PS3 can match the success of the PS2, which has sold over 115 million units worldwide since its launch.


"We're aiming towards a much broader lifestyle for home entertainment enthusiasts, that's one of the reasons the PlayStation 2 went on to sell over 115 million units worldwide,"
said the spokesperson.
"Ultimately it will come down to content ... What it offers for its price is exceptional value for money – a quarter of the cost of a PC of similar capability and about the same as a commercial Blu-ray player."
Source:
DailyTech