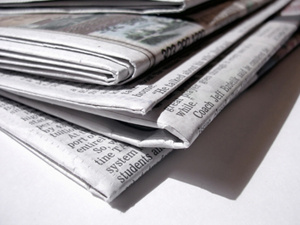 In a move that has drawn criticism from music retailers around the world, the hit artist
Prince
has decided to launch his upcoming new CD for free, including it in the newspaper,
The Mail on Sunday
.
The Mail on Sunday announced that the 10-track "Planet Earth" CD will be available for free today in the paper, over three weeks earlier than its retail release date on July 24th.


"It's all about giving music for the masses and he believes in spreading the music he produces to as many people as possible,"
said Mail on Sunday managing director Stephen Miron.
"This is the biggest innovation in newspaper promotions in recent times."
The paper, which sells over 2 million copies per week, said they will be ramping up production, anticipation a large sales spike for the week.
Music store executives have scoffed at the offer, with some going as far as to calling it "madness", while others called it a huge insult to the industry. In an effort to appease music stores, Prince's label cut its ties to the album in the UK.
The ERA (Entertainment Retailers Association), had this to say.
"It would be an insult to all those record stores who have supported Prince throughout his career,"
ERA co-chairman Paul Quirk told a music conference.
"It would be yet another example of the damaging covermount culture which is destroying any perception of value around recorded music.

"The Artist Formerly Known as Prince should know that with behaviour like this he will soon be the Artist Formerly Available in Record Stores. And I say that to all the other artists who may be tempted to dally with the Mail on Sunday."
Simon Fox, the CEO of
HMV
, made similar comments.
"I think it would be absolutely nuts. I can't believe the music industry would do it to itself. I simply can't believe it would happen; it would be absolute madness."
Source:
Guardian Business