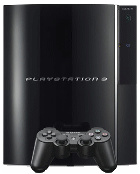 Sony Computer Entertainment America (SCEA)
has made a smart move on Monday by dropping the retail price of its
PlayStation 3 (PS3)
console by $100, to $499, in the United States. The move comes just two days ahead of the
E3
games conference in Santa Monica, California. The PS3, which features a 60GB hard disk drive (HDD), has had a very shaky start since last year's launch in North America, marred by poor sales performance and production problems.
The price drop puts the PS3 price just $20 ahead of
Microsoft
's most expensive
Xbox 360
model (Elite).
"Our initial expectation is that sales should double at a minimum,"
Jack Tretton
, chief executive of Sony Computer Entertainment America, said in an interview.
"We've gotten our production issues behind us on the PlayStation 3, reaching a position to pass on the savings to consumers, and our attitude is the sooner the better."
Wedbush Morgan
analyst
Michael Pachter
does not believe the price drop will double hardware sales, but could instead reach increases of about 50%, to 120,000 units per month. While a great improvement, it would still look bad in comparison to the sales performance of
Nintendo
's
Wii
console, which still only costs half the price of the PlayStation 3.
"The greater significance is that Sony is signaling to the market that we're coming down the cost curve pretty fast in making this thing. It's a pretty consumer-friendly move,"
Pachter said. Rumors are now surfacing that Microsoft will quickly respond during
E3
to the PS3 price cut, by making the first official cuts to the price of Xbox 360 units.
Sony is also preparing to introduce an 80GB version of the PS3 which includes a copy of
Motorstorm
, a million-selling off-road racing game. That model will cost customers $600. Sony also hopes to try appeal to customers who have considered an Xbox 360 as their best option. Microsoft recently set aside $1 billion to repair early Xbox 360 units that have a very high failure rate.
UPDATE:
GamesIndustry.biz
has been contacted by
Sony Computer Entertainment Europe (SCEE)
informing them that a major announcement will be made regarding the PlayStation 3 this Thursday at the E3 Media and Business Summit. While a spokesperson would not elaborate any further at this time, it was revealed that it is related to the announcement of a PS3 price drop in the United States made earlier today. New European deals coming?
Sources:
Reuters
GamesIndustry.biz