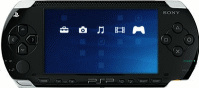 Some new details have been revealed about the lighter, slimmer
PSP
including added RAM as well as better battery life.
The Slim PSP will have a new
UMD
caching that loads game data into the on-board added RAM, which should drastically improve loading times.
The new system was showed off at E3 using firmware version 3.60.
Another new addition is a USB charging feature which will allow gamers to charge their PSPs via their computers.
Finally,
Sony
spokespeople said the battery life was now increased to 10 hours using the new hardware, which is double the current battery life.
Source:
DailyTech