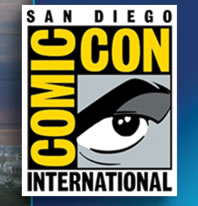 Last week at Comic-Con, the worlds biggest comic book convention, both HD
DVD
and
Blu-ray
were pushed by industry representatives.
Sony Pictures Home Entertainment hosted a Blu-ray Experience booth on the exhibition floor. Every hour, executives premiered Blu-ray clips of Spider-Man 3, Close Encounters of the Third Kind and 20 Million Miles to Earth 50th Anniversary Edition. The films ran across 52-inch TV screens via a Sony BDP-S300 set-top player, a PlayStation 3 and a Sony VAIO laptop. More than 8,000 Comic-Con attendees entered a contest to win one of the three Blu-ray hardware systems.
"This is our first big show where we are really focusing in on the consumer," said Rich Marty, Sony VP of new business development. "It's the perfect event to showcase Blu-ray, because you're attracting a perfect demographic. These people love films, they love gaming and they love new technology. And the biggest titles are now coming."
Outside the exhibition floor, studios presented panel discussions about new high-def titles. CBS DVD, distributed by Paramount Home Entertainment, trotted out Rod Roddenberry (the son of Star Trek creator Gene Roddenberry) to help promote the Nov. 20 bow of Star Trek: The Original Series on HD DVD.
Universal Studios Home Entertainment also publicly announced Web-enabled features for its Aug. 28 HD DVD release of the first season of Heroes.
"To me, it's definitely very confusing," said attendee Carolyn Granado, who was exploring Sony's Blu-ray booth. "For regular folks, we are at a loss. No one seems to be able to make up their mind about what is the right format."
Attendee Dominick Huaraz added that he hasn't had time to focus on whether Blu-ray is better or worse than HD DVD because "we are still trying to figure out whether to buy an LCD or plasma TV."
Source:
Video Business