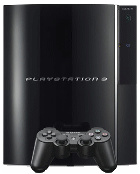 Sony
third party relations cheif Michael Shorrock has said that the company has purchased exclusive rights for the next game franchise by
Rockstar Games
, makers of the popular
Grand Theft Auto
and Manhunt series among many others.
According to Shorrock, a "completely new" franchise will be launched exclusive to the
PlayStation 3
which should help Sony regain some credibility after losing out on a deal that placed exclusive
GTA: IV
content on the rival
Xbox 360
.


"Everyone knows to have success in this business you need to look ahead, identifying the talent and titles that are going to give consumers new kinds of gaming experiences that help set the bar for the rest of the industry,"
Shorrock said.
"Rockstar has a heritage for doing just that."
Sony also said the game would make "heavy use of the PlayStation 3's Cell and Blu-ray technologies" but could not disclose more due to a non-disclosure agreement made with Rockstar.
JupiterResearch senior analyst Michael Gartenberg did mention that there may be more to the deal then what is known now.


"There's one interesting part of this,"
he said.
"No one does exclusives without a really good reason and given the fact that Sony is not dominating this console cycle, I would think Sony must have paid quite a bit to get the exclusivity."
Source:
BetaNews