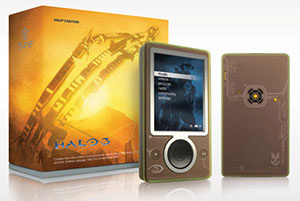 Citing the popular feedback from US military personnel,
Microsoft
has announced they will be releasing a
Halo 3 Military Edition Zune
, that will be available exclusively at military retail stores starting later this month.
The player will come packaged in a collectible box and the device will also come pre-loaded with trailers, artwork, and music from the Halo series.
Microsoft sent 300 players to the USO of Metropolitan Washington for free as part of a special USO care package the soldiers received.


"Microsoft has been a great partner to the USO of Metropolitan Washington for several years, supporting both our U.S. soldiers and the USO's mission,"
says Elaine Rogers, president of the USO of Metropolitan Washington.
"From Zune devices and Xbox 360 gaming consoles to new computers with the latest Windows Vista and Office software, Microsoft's technology has helped service members stay connected and entertained."
The players will sell at a discounted price to military personnel and family when the begin selling later this month.
Source:
DailyTech