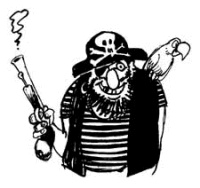 On Monday, two men were sentenced in what the government calls the largest DVD piracy scheme to be prosecuted in the U.S.
The two defendants, Ye Teng Wen, also known as Michael Wen, and Hao He, who is sometimes called Kevin He, were sentenced to 37 months each in federal prison, followed by three years of supervised release, and fines. A third defendant, Yaobin Zhai, also known as Ben Zhai, received the same jail and supervised release sentence, but a much larger fine of nearly $7 million.
All three men were arrested as part of Operation Remaster, an federal undercover operation that executed 13 search warrants in California and Texas. According to a Department of Justice press release, nearly 500,000 pirated CDs and DVDs were seized, as well as more than 6,000 stampers which could be used to manufacture pirated discs.
While entertainment companies are quick to point fingers at file sharing and personal disc copying for decreasing revenue, the numbers used to show those losses often come from commercial operations like this one. It's a reasonable assumption that at least most of the money spent purchasing pirated CDs and DVDs would otherwise be spent purchasing similar legitimate goods.
There's no way of knowing the actual financial effects of piracy on CD or DVD sales, but it is known that piracy is a multi-billion dollar business, particularly in Asia. As long as people trying to exercise fair use rights are painted with the same broad brush as the true criminals and both are blamed for declining profits, it should be a subject of interest for all consumers.
Source:
Information Week