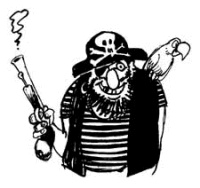 Police raids at a
Mississauga
flea market have squashed rampant piracy that was bringing in hundreds of thousands of dollars for sellers. On Sunday, about a dozen booths at flea markets on Mavis Rd. in Mississauga and on Dundas St. near Hwy 427 in Toronto led to 18 arrests being made and another 8 people are being sought.
Altogether, 22 different locations were entered with search warrants, including several homes and businesses in Peel, Toronto, Halton and York. More than 40,000 bootleg DVDs worth a minimum $800,000 were seized.
"We had a 21-year-old kid bragging that he was making $15,000 a weekend,"
Peel Det. Sgt.
John Mans
said.
"He had the potential to make $60,000 a month and we think he was in business for six months so he could have made over $300,000."
Among the locations raided were homes in Scarborough and Markham from where police alleged the pirated DVDs were being distributed.
"One of the houses we entered had 7,000 movies alone,"
Mans said.
"We also seized equipment that we've been told was capable of turning out $21 million a year in these illegal DVDs."
Source:
The Star