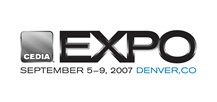 Sony
is making a case for Blu-ray at the CEDIA (Custom Electronics Design and Installation Association) Expo in Denver, Colorado this week.
The company unveiled two
BD
players and a 200 disc BD server product that can also burn 25GB
Blu-ray
discs.
The HES-V1000, which should be available this fall for a suggested retail price of $3,500. Besides holding 200 discs and a burner, it will also include a 500GB hard drive for storing music, photos, and even video.
It also has an ethernet connection and shares the XMB (Xross Media Bar) interface with the Playstation3 and
PSP
consoles. It can even stream to other devices, including the PS3.
Even though the price isn't within reach of many consumers, it seems to be a good fit with Sony's apparent goal to be the center of your living room.
Other products presented include Bravia SXRD projectors and the BDP-2000ES Blu-ray player with that supports
1080p
and 24fps output.
Also added is
Dolby
Digital TrueHD/DTS-HD Master
Bitstream
out via
HDMI
, uncompressed multi-channel liner PCM, BD-ROM/DVD/CD playback, Bravia Theater Sync simplified system interoperability,
DVD
up-scaling to 1080p via HDMI, AVC-HD with
x.v.Color
output, and IR-in.
Source:
This Week In Consumer Electronics