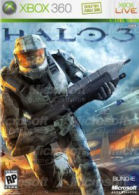 With the game ready to launch tonight,
Microsoft
has announced that it has already sold more than 1.5 million copies of
Halo 3
in the US making it the fastest game to hit the milestone.
"The excitement and demand for Halo 3 has transcended a typical video game release and we're preparing dedicated registers for its midnight release in our 24-hour stores,"
said Darin Dickson, video game merchandise buyer, Wal-Mart Stores Inc.
"It's clear that this is one of the most anticipated games of the year and that 12:01 am Sept. 25 will be a memorable moment for thousands of gamers."
There will be up to 10,000 US retailers open tonight at midnight, with a few even having special events.

"Our customers have been waiting for Halo 3 since the day after Halo 2 launched in 2004,"
said Jill Hamburger, vice president of movies and games at Best Buy.
"Halo 3 is going to bring the experience to new levels, and we are excited to help our customers get the best possible game playing experience."
Halo 3 surpasses Halo 2 as the fastest pre-selling game in history and the game is expected to be released in 37 countries and in 17 different languages.
Source:
GI.biz