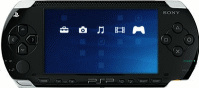 Sony
managed to sell a quarter of a million new
PlayStation Portable (PSP)
units in Japan in just 4 days after the new model launched, according to a Japanese gaming magazine. The figure matches what the
PSP
console previously managed in two months in the territory. The slimmer and lighter PSP launched in Japan on September 20th, aiming to become more competitive with the huge demand for the
Nintendo DS
Lite.
Sony and Nintendo released the original PSP and DS handheld consoles back in November 2004. Since then, Nintendo revamped the DS with the
DS Lite
, which was seen considerable demand worldwide. The PlayStation Portable is more expensive but offers more multimedia features. The newer model is thinner than the original and offers TV-out.
In 4 days through September 23rd, the PSP sold 250,702 units in Japan, according to
Enterbrain
. For comparison, Sony sold 275,223 units of the PSP console in the entire of July and August combined. The PSP sells for 19,800 yen, with the DS Lite selling for 16,800 yen.
Source:
Yahoo (Reuters)