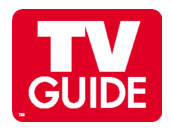 TV Guide is taking the leap into the world of online television offerings with a new service called the Online Video Guide, debuting on their website today. The idea is to help site to the publication's website go straight to the best sources for television shows and related content. For example, a search for a show that's available on a television network website should show that offering first. Additional features will include an option to narrow the search to free video, eliminating online stores like
Amazon
Unbox or
Apple
's iTunes.
"
We're filling a niche that Google and YouTube are not because they're not strictly TV-focused,"
said Paul Greenberg, General Manager of TV Guide Online. He also says that 70% of
YouTube
users are more interested in professionaly produced video, rather than the user produced content that site is famous for.
While the number of visitors to TV Guide Online has increased an estimated 70% in the last year, subscriptions to their traditional weekly publications of regular TV programming has fallen dramatically over several years.
Although they currently don't receive any monetary compensation outside their own advertising for directing visitors to videos, TV Guide hopes to negotiate deals with content providers for some sort of revenue sharing.
It's refreshing to see a long established company recognize that changing technology has created new oppurtunities to develop revenue streams as established markets disappear or become less profitable.
Source:
Reuters