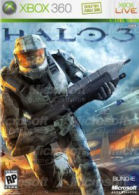 Microsoft
announced on Thursday that its blockbuster game
Halo 3
had reached $300 million USD in sales in its first week of release. Those numbers make it by far the fastest selling video game in history as well as one of the largest entertainment launches in history.
Even better news for Microsoft is that the game has fueled a console sales spike, which have doubled from the weeks before the game was released.
Reuters
even reported that sales of the 360 beat out sales of the
Wii
for the week.


"'Halo' is truly a cultural phenomenon, and the launch of 'Halo 3' is an important milestone for Xbox 360 and for video games as entertainment and as an art form,"
added Bill Gates.
The company also said that over 2.7 million users had played the game through
Xbox Live
accounting for over 40 million hours online.
Source:
BetaNews