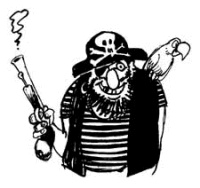 It appears that University of Tennessee student's interesting legal strategy of thwarting
RIAA
attempts to discover his identity have been blocked. The student's identity will soon be released to the RIAA after a judge ruled that the information isn't protected under the Federal Educational Rights and Privacy Act (FERPA).
The student's lawyer had argued that under FERPA the student's identity could only be revealed if he explicitly waived his rights, but the judge decided that most of the information sought by RIAA lawyers is already categorized as "directory information" which can be released without student permission. This information includes his name, address, phone number, and email address. Judge Guyton also ruled that since the information about a student's computer doesn't count as an educational record at all, MAC and IP address disclosure isn't affected by FERPA at all.
Despite winning this battle, the war against file sharers at universities continues to be contentious. Many students, and even some university officials, feel that the RIAA has repeatedly overstepped legal boundaries while pursuing students on college networks. At different times, various institutions have complied with subpoenas without comment, fought the subpoenas in court, or supplied
Limited
information.
Unfortunately, no clear Federal guidelines exist for the mass lawsuits being filed regularly by the RIAA exists. This has resulted in quite a bit of controversy, and a few very interesting defenses, as defendants try to find areas where RIAA tactics cross the line between uncomfortable and illegal. As long as the lawsuits are being filed, expect the interesting defenses mounted by some defendants to continue as well
Source:
Ars Technica