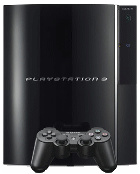 According to
Engadget
, the upcoming 40GB
PlayStation 3
, which is set to hit the US on November 2nd, will run on a a cooler-running 65nm
Cell
processor.
The chip swap will lower power consumption from 200 Watts to a more reasonable 135 Watts and the new PS3 will have a motherboard revision including an update of Southbridge. The internal heatpipe has also been reduced in size thanks to the cooler running processor.
Although overheating has not really been an issue for the PS3 as compared to the rival
Xbox 360
, the new processor should help cut manufacturing costs.
Source:
Dailytech