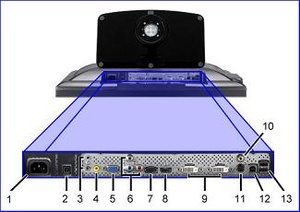 Dell
has been no stranger to releasing 30-inch monitors for PC hungry geeks worldwide, but its previous model fell short of some expectations. Dell has made sure they will right what is wrong with their newest next-gen monitor, the
3008WFP
.
Armed with not only 30
Widescreen
inches of pixel topology, the monitor gets several different inputs such as HMDI, two dual link
DVI
inputs, Component, S-VHS, Composite in, USB upstream connector, and a
DisplayPort
connection. With several different inputs, its quite possible for this monitor to have up to five different machines running into this one monitor.
The processing chip within the monitor allows for resolutions of 2560x1600, 1920x1200, 1920x1080, 1680x1050 and all the other more common
Resolution
schemes. The monitor itself will also feature the to-be-expected tilt, swivel and vertical extension that seems to be with all of them now-a-days.
Source:
The Inquirer