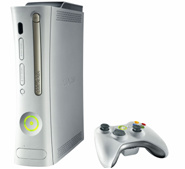 The addition of support to play back
DivX
video or
XviD
video would be a significant boost to the
Xbox 360
games console. Since it was launched, support for the MPEG-4-based video has been requested over and over again and rumors have turned out to be false. However,
DivX
CEO
Kevin Hell
made comments that have sparked rumors that DivX support will be added in a coming update.
During the
SMid Cap
conference call with investment firm
JP Morgan
, Hell was asked if a recent deal that would see DivX codecs shipped with
Windows Media Extenders
would mean DivX support for the Xbox 360 console; he replied with a
"Yes."
However, he went on to say that the deal was still in the negotiation process and has not been finalized.
DivX and particularly XviD video content is rampant on the Internet, and support for the video would no doubt drive up the number of users
streaming
video across a home network to the Xbox 360 console. However, if it were implemented on the basis that Windows Media Center is required, for most Xbox 360 owners it would be almost insulting. You can stream
WMV
content to the Xbox 360 console without MCE (under XP), and you can use
TVersity
to transcode and stream DivX / XviD or many many other formats on-the-fly.
Source:
Ars Technica