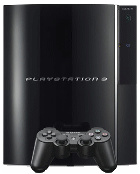 Sony Computer Entertainment America (SCEA)
is delighted with the boost in unit sales of the
PlayStation 3 (PS3)
console since the company cut the price of the 80GB model and offered up a 40GB model. In the week of October 29th, the company sold 75,000 PS3 units, and then the following week sold 100,000 more units. Compare that performance to previous weekly sales between 30,000 and 40,000 units.
The boost is a result of cutting the 80GB model by 17%, to $499 in mid-October, and then going on to sell a 40GB model on November 2nd for $399. Also assisting in sales is the shortage of
Nintendo
's hot-selling
Wii
console. This indeed is good news for the PS3, which has suffered under-performance all year long, and comes just ahead of the holiday season.
A high price tag and scarcity of titles led a lot of potential PS3 buyers to
Microsoft
's
Xbox 360
or the Wii console. The PlayStation brand is a very strong brand across the world, but the name alone did not drive gamers to purchase the console in adequate numbers while it was the most expensive console and offered the least alluring software line-up.
Now with the new price points and more promises for the game line-up, the company is hoping that the dark times for the PS3 are coming to a close. This holiday season, the PS3 will take aim at both the Xbox 360 and the Wii, and it will be interesting to see what the numbers will be in January after a bad year in the United States for the console.
In October overall, Nintendo's Wii was number 1, selling 519,000 units, followed by the Xbox 360 with 366,000 and then the PS3 with 121,000 units, according to data from
NPD
. Looking forward to the November numbers.
Source:
Reuters