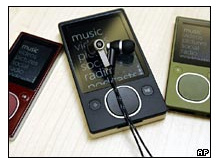 Christmas day showed signs of being big for both
Microsoft
and
Apple
judging from the number of visitors to the websites for each company's moble media players. According to industry analysts at
Hitwise
, traffic to
Microsoft's
Zune website was up nearly 400% over Christamas Eve, while iTunes from
Apple
got six times as many hits as the Zune site, also up more than 300% from a day earlier.
Besides getting the lion's share of traffic among online music stores, iTunes als made it to number 9 on
Hitwise's
list of most visited etailers on Christmas day. They received a reported 0.068% of all online retail visits.
"Although the Nintendo Wii was the most-talked-about product during the holiday season, MP3 players were also very popular as Christmas gifts,"
Heather Dougherty, director of research at
Hitwise
, said in a prepared statement.
"This year the Zune has captured interest from music listeners with a new line of redesigned players and discounted older models, while the popularity of iPods continued to drive traffic to the Apple Store and iTunes Web site."
Source:
InformationWeek