The
Consumer Electronics Show
is well known for showing off innovative and creative new gadget that eager consumers can get their hands on, and this year is proving to be no different. New York based
Hauppauge
, well known for TV tuner cards for PCs has introduced what appears to be a very handy device. The world's first
USB
TV tuner, the
WinTV-HVR-950Q
.
The new USB tuner stick can be used as a portable TV tuner and can be used to watch and record clear QAM digital cable TV on a laptop or desktop PC. Not only that, it can also be used to watch and record
NTSC
analog cable TV and over-the-air
ATSC
high definition digital TV.
Bundled with the USB stick is a credit card sized remote control so you dont have to fumble with keystrokes or mouse clicks to switch channels on your television stream. If the size of the remote is a problem, there is an optional full size remote control as well.
The new WinTV-HVR-950Q supports Hauppauge's SoftPVR and SoftMCE software
MPEG-2
encoders. SoftPVR and SoftMCE are software based MPEG-2 encoders which allow the recording of analog NTSC cable TV onto a PCs hard disk in a compressed format without needing a expensive hardware
MPEG
encoder. These encoders enable WinTV-HVR-950 to be compatible with Windows XP, Vista Home Basic plus Vista Media Center.
MSRP looks to be in the ballpark of $99 and the stick with remote bundle should be available later this month.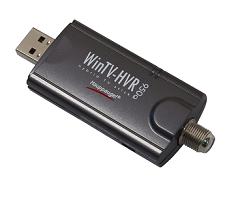 Source:
Yahoo!