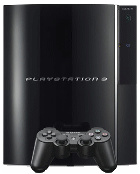 Following a price cut, improved game line-up and availability of a lower priced model,
Sony
managed to move 1.2 million PS3 units in North America during the crucial holiday shopping season, providing a significant boost for the gaming platform and - Sony claims - the
Blu-ray
disc format. The PS3 rivals
Microsoft
's
Xbox 360
and
Nintendo
's
Wii
in the multi-billion market for video game content.
The
PlayStation Portable (PSP)
handheld console also had a decent holiday season with 1.4 million units snatched up by consumers. To remind us that the previous generation of gaming is still alive and well, the
PlayStation 2 (PS2)
was very popular during the holidays in North America also, managing to sell 1.3 million units.
Adding up the figures for the three common PlayStation-branded items; PS2, PS3 and
PSP
, you get a figure of 3.9 million unit sales in North America during the holiday season for the devices. Last year, the PS3's launch was negatively affected by a high price tag, lack of attractive games and of course, the consumers' fascination with Nintendo Wii and DS Lite.
"The PlayStation brand ended the year in a very strong position and clearly indicates more positive momentum going into 2008,"
said
Jack Tretton
, president and chief executive of
Sony Computer Entertainment America
.
"The strong PS3 sales also further establish Blu-ray's dominant position as the high-definition medium of choice for games and movies."
Source:
Google (Canadian Press)