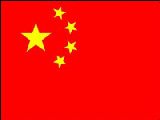 Today Chinese officials issued what amounts to an international cry for help to help in their crack down on internet piracy. "To evade punishment, pirates often locate their servers in other countries or regions, posing very big difficulties for police efforts to carry out (a) crackdown," said Gao Feng, a senior public security ministry official. "Copyright infringements, by their very nature, are international crimes. To effectively curb such activities, (we) need enhanced international cooperation on law enforcement," he said.
"It's difficult to block these websites completely ... as it's hard to arrest a person responsible if he lives in a foreign country," Liu Bin, a Beijing-based analyst with technology consultancy firm BDA China, told
AFP
.
However, there's good reason to believe that Chinese officials' actual motives have less to do with piracy than controlling the country's population. The plea for international cooperation comes on the heels of a
government announcement
that by year's end only state agencies will be authorized to provide audio or video on the Web.
It also follows an incident where a man was
brutally beaten to death by government employees
while trying to shoot video of their dispute with a group of villagers in Tianmen. Many believe that the incident wouldn't have resulted in any goverment action except that it attracted the attention of Chinese bloggers, resulting in an investigaton that's so far yielded a number of arrests.
And don't forget that much of the pirated content Chinese officials are so anxious to remove isn't available through legal channels inside the country - at least not the uncensored versions available on the internet. Chinese police have also made a significant effort over the last several months to "clean up young people's online environment" by locating and closing internet cafes, known in China as net bars, not authorized by the government.
Perhaps even more telling is the overriding emphasis on the internet when it's
a well known fact
that pirated DVDs and CDs manufactured by organized crime operations are rampant in the area, including many operations which ship their unlicensed goods to other parts of the world.